Peer-to-peer crypto exchanges remained the only hope for crypto enthusiasts in countries where regulators are cracking down the adoption of bitcoin and crypto in large. Moreover, countries with the weakest growing economy also perceive these platforms as a potential avenue to hodl and trade cryptos. 
LocalBitcoins Receives License  
As such, LocalBitcoins is believed as one of the most popular peer-to-peer crypto exchanges, especially in countries like Venezuela, Argentina, Peru, Colombia, and other South American countries. Per the latest announcement, the exchange received a green signal from regulators. 
 The Finnish Financial Services Authority (FIN-FSA) registered LocalBitcoins as an authorized crypto exchange. Per the reports, registration is mandatory for a crypto trading platform to offer its services in Finland. However, to obtain this license, the exchange satisfied regulators by implementing the anti-money laundering measures (AML), Know your customer (KYC) procedures and ensured adequate protection of customer assets. Notably, the exchange's graph started declining, presumably due to new regulatory measures.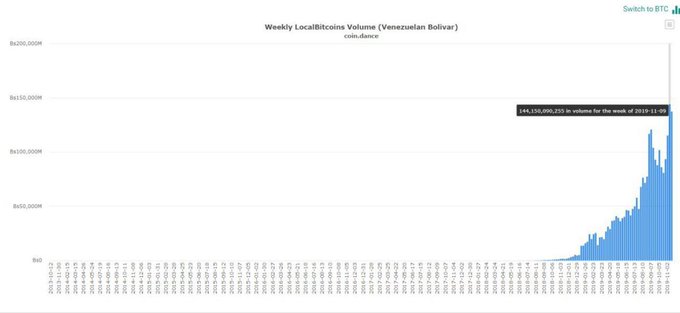 LocalEthereum Renames to LocalCryptos
 On the other hand, LocalBitcoins CEO Sebastian Sonntag remained bullish and said that the regulatory approval will possibly open up new business opportunities for LocalBitcoins. However, there's another platform that seeks to compete with LocalBitcoins. 
 Similar to LocalBitcoins which is dedicated to bitcoin trading, LocalEthereum significantly focused on ether trading. While former platform received a license, the latter is renaming its name to LocalCryptos with a vision to support more cryptocurrencies including Bitcoin. Its CEO Michael Foster told media "Unlike LocalBitcoins, LocalCryptos is non-custodial, end-to-end encrypted and completely private". 
 The firm said that the non-custodial platform doesn't hold user's private keys which means hackers wouldn't be able to access or freeze the user's crypto. But it's worth noting that the non-custodial platforms are challenging for users, in case if they lost their wallet password. The non-custodial platform remained safe and will not help you recover their lost keys. 
 "Platforms like LocalBitcoins are centralized, custodial, and a far cry from private. These platforms are vulnerable to hacks and thefts like a centralized exchange. Hackers have stolen several billion dollars from centralized crypto platforms. At least two of those heists took from LocalBitcoins traders." Said LocalCryptos
 LocalCryptos to Compete LocalBitcoins
As LocalBitcoins is quietly slipping off from its peak mark of trading volume due to user verification measures which were started back in June this year, LocalCryptos said that the users trading at LocalBitcoins can quickly import their "earned reputation" to its platform. This feature freezes traders from starting trading and building trader's reputation again on LocalCryptos, rather they can import their history from LocalBitcoins and use at LocalCryptos. 
 The exchange further asserts that they want to give people power back. Foster went on to elaborate ' We developed LocalCryptos based on this idea of users remaining in control at all times—not us,". It also hints that the platform will soon support more cryptocurrencies such as ERC20 tokens. This being said, it aims at serving underbanked and unbanked communities, especially in Venezuela where hyperinflation has always been a major threat. Moving forward, LocalCrypto aims at developing a new smart contract "to handle ERC20s and ERC721s in near future". 
 Although LocalBitcoins has performed pretty well in past years, the platform received a number of complaints for some time now. Nevertheless, the platform also sent some jitters on Twitter to keep its users updated with their activities. Notably, they received complaints concerning blocked withdrawals and other similar issues that frustrating daily traders – with this, these traders caught seeking an alternative OTC platform.
In a nutshell, the OTC trading platform is slowly gearing up and as the oldest and largest peer-to-peer crypto exchange LocalBitcoins receiving a number of complaints, LocalCryptos might soon fill the gap to satisfy LocalBitcoin's users. 
 Image Source – Shutterstock
Notice: Information contained herein is not and should not be construed as an offer, solicitation, or recommendation to buy or sell securities. The information has been obtained from sources we believe to be reliable; however no guarantee is made or implied with respect to its accuracy, timeliness, or completeness. Authors may own the crypto currency they discuss. The information and content are subject to change without notice. Visionary Financial and its affiliates do not provide investment, tax, legal or accounting advice. This material has been prepared for informational purposes only and is the opinion of the author, and is not intended to provide, and should not be relied on for, investment, tax, legal, accounting advice. You should consult your own investment, tax, legal and accounting advisors before engaging in any transaction. All content published by Visionary Financial is not an endorsement whatsoever. Visionary Financial was not compensated to submit this article Please also visit our Privacy policy; disclaimer; and terms and conditions page for further information.